Antoine J. Hayes
The Shape of Brooklyn
Brooklyn looks nothing like how I imagined
It would from the Wu-Tang songs
I listened to in the 90s. I was paranoid
I'd get mugged or stabbed walking
From Cumberland to Greene,
To Lafayette to Elliot to Park.

Instead I passed parks full
Of white toddlers with white moms,
Young professionals straight out of college
And out of their parents' taxes as dependents
On the mile walk from the brunch spot
To Commodore Barry Park.
At least Black people
Still live in Brooklyn. My Air BnB host—a slightly
Older man who could pass as my blood brother—
Is a lifelong Brooklyn resident. He shares his comfy
2-BR apartment with a woman from Europe.

Gentrification hasn't wiped Blacks
Completely from the landscape of Ft. Greene.
The manager at the brunch spot a few blocks
From the Air BnB is a brown skin
Black woman with bountiful curls.
Then there's always the Walt Whitman Residence;
Stranded in the middle of this new Brooklyn as if trapped
In a time vortex, unaffected by the buffed and polished
Veneer that has sprung up around it; stuck in Wu-Tang's 90s.

The shape of Brooklyn—from the ancient homes
To the tree-lined avenues—reminds me of Bolton Hill
And Mt. Vernon in Baltimore, but on a much larger scale.
I could see myself one day living in Brooklyn—
Becoming one of the vilified gentrifiers.

While crossing and recrossing the Myrtle Ave border,
I imagine I'd be studied
By the ghost faces of past residents who were left
To rot and die in pissy alleyways of despair
Because the city deemed them not valuable
Enough to partake in Brooklyn's future shape.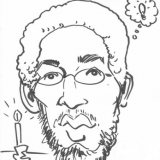 Person. Storyteller. Work-in-progress. Antoine J. Hayes writes poetry and fiction (under the names A. J. Hayes and A. Jarrell Hayes). He is the author of over 30 publications: including novels, short story collections, poetry chapbooks and zines. He also crafts journals and facilitates creative workshops. He holds an associate of arts degree in English and is currently pursuing a bachelor's degree in philosophy. You can find him online at www.ajhayes.com.
[Image description: A drawn caricature of the author, who has close-cropped hair, glasses, and a mustache and beard. Above him is a thought bubble with a light bulb in it—a symbol for an idea. To the left of him is a lit candle.]